As the Zambian government protects the nation against the COVID-19 pandemic, progress to increase agricultural and dietary diversity is being put at risk.  Drawing on findings from a new study, William Chilufya and Jajah Coulibally discuss the challenges and opportunities that policy makers face.
Coronavirus & Agriculture in Zambia
At the peak of Zambia's COVID-19 crises nearly 10,000 cases and 270 deaths were recorded.[1]  While the response to the pandemic has been effective, the government has struggled to balance the use of its financial and policy muscle to also diversify agricultural production. All parts of the food economy have been affected as farmers faced impossible choices; stop food production or continue working and risk localised coronavirus outbreaks.
At the height of the pandemic there was a growing disquiet among policy makers and farmers alike that economic slowdown within Zambia's food sector was inevitable, and concerns remain that rates undernutrition and micronutrient deficiency could rise as a result.
Research Points to Fiscal & Market Challenges 
A new study from HIVOS southern Africa explores the impact of COVID-19 on food diversification in Zambia.  It analyses how the COVID-19 pandemic affected various parts of the food chain. Interviews with policy makers, civil society actors and smallholder farmers in Kafue, Shibuyunji, Chilanga and Mumbwa reveal that urgent policy action is needed by government to get national food diversification back on track.
The study identifies a constricted fiscal space that has moved vital resources from key social sectors including agriculture and social protection to the national COVID-19 response. Ministry of finance disbursements to the Ministries of Agriculture, and Fisheries and Livestock and the National Food and Nutrition Commission (NFNC) have been irregular.  As a result, funding for diversification work has been delayed, a situation which has decreased the ability of a swift respond to COVID-19 in the agricultural sector.
In urban and rural food markets the price of imported farming inputs has increased, leaving smallholder producers with reduced access to agricultural seeds and fertilizers. Farmers interviewed in the study said,
"We used to buy a packet of seed at K12 but now these agro- dealers are selling the packs at K25. My conviction is that these prices will not reduce, they shall be maintained even in the aftermath of the COVID-19 pandemic.''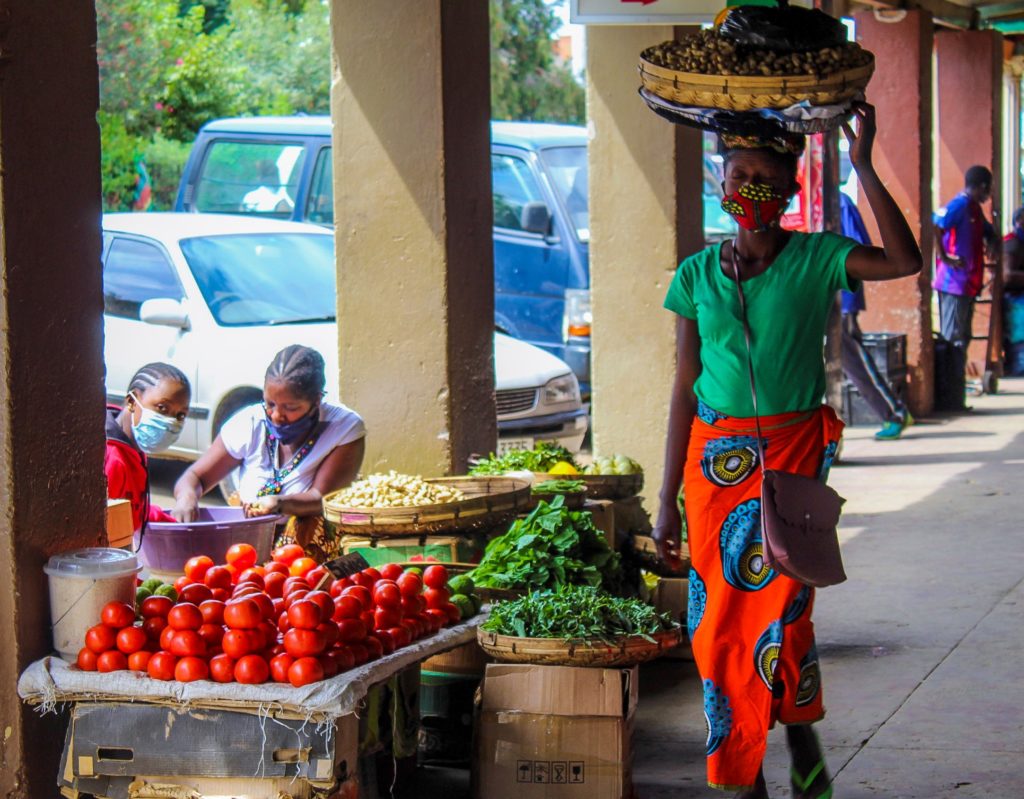 The Silver Lining 
While most of the agricultural impacts of COVID-19 have been challenging, there is one silver lining.   As a result of trade restrictions at and across borders, smallholder farmers are filling a gap in supply of fresh vegetables and fruits, meat and fish, and dairy to urban markets. With the high prices of these commodities, smallholders have a unique opportunity to increase livelihoods, diversify production and improve their diets. However, while emergent medium scale farmers are taking advantage of this market opportunity, small-scale farmers are struggling to produce food on the scale needed.
Government Response
The country's strategic Food Reserve Agency (FRA) was given K1 million to provide support to farmers given the constrained market, yet adequate diversification remains a challenge.  Government plans to use the Farmer Input Support Programme (FISP) will help increase access to farming inputs and encourage the sale of foods including millet, sorghum, and pulses.  In addition, the promotion of diverse off-season fruits and vegetables will help avoid food shortages and the irregular supply to urban markets. But action must be swift for change to happen.
The National Food and Nutrition Commission (NFNC) have also increased nutrition messaging to farmers focusing on the importance of their own nutrition. Selenium, Zinc and Vitamin C are essential in boosting immunity and farmers are being advised not to sell all their produce, but to retain produce for their own consumption. An NFNC representative said "We are telling the farming communities not to sell all the chicken and legumes but to consume some. Everyone must eat what he or she grows."
What is the way forward?
There is urgent need to diversify production and improve nutrition among the Zambian population, including farmers – especially during the corona virus pandemic. Government can drive this agenda by promoting the production and marketing of diverse foods and working in partnership with private sector players.  The minister of finance must regulate funds to key line Ministries and institutions involved in nutrition and food diversification. Timely disbursement of agricultural funds is critical to sustain programmes that will increase resilience to the COVID-19 pandemic by improving the nutritional status of those already affected by malnutrition.
As the reported number of cases of COVID-19 stabilize in Zambia there is an opportunity for government to re-prioritize agriculture, nutrition, and the diversification agenda.  Farmers can increase their supply of farm products to markets – now is the time to act and positively steer production in the coming season.
[1] This figure was accurate up until August 2020.
By Jajah Coulibally and William Chilufya