Imagining Tunisia's lost natural history
October 19, 2023
Interview by Hugo Schiffers, communication specialist Voices for Just Climate Action
Bochra Taboubi (b. 1993) was one of the artists on display at the Resistance Climate and Art Festival from October 1 to 7 at Gabes oasis in Tunisia. Supported by Hivos' Voices for Just Climate Action program, the festival hosted artists who use different art forms to discuss the meaning of climate justice. Bochra's exhibit 'Cluster of Matter' takes visitors to the mining town of Métlaoui, once a rich site for fossils, but now a devastated landscape because of phosphate mining.
Bochra's work addresses environmental degradation, colonialism, and the depletion of the earth's resources. She imagines what Tunisia's natural history would be like if it had survived all three. Her drawings, sculptures, engravings and faux scientific catalogues depict a lost world. We spoke with her at the festival.
Where did the idea for this exhibit come from?
(Laughs) I'm sad to say that I thought of the idea not in Tunisia, but in France. In 2020, I visited the National Museum of Natural History in Paris. There, in the section on comparative paleontology and anatomy, I came across the fossil of a crocodile. It was over six meters long. I was shocked to see it came from my own country. More specifically from the mining town of Métlaoui, in the south of Tunisia.
This fascinated me, and when I got back I started researching. I found out that when Tunisia was a French colony, many more fossils and artefacts had been taken to France. They found them while mining phosphate and looted them.
What further struck me was that so much information on the natural history of Tunisia has been lost. What they didn't loot was destroyed by mining and environmental destruction. This gave me the idea to create art that fills in the gaps, like an imaginary index of Tunisia's fauna and flora.
You mention phosphate and environmental degradation. How are they part of the story?
Phosphate has always been part of the story. The six-meter-long crocodile I saw is actually called Dyrosaurus phosphaticus after the high amounts of phosphate in the ground. It was found in the 19th century by the French geologist Phillippe Thomas, who also discovered the phosphate reserves around Métlaoui. Phosphate mining was dangerous and many local miners died. The people I spoke to there told me they felt that human lives were less valued than the money made from phosphate.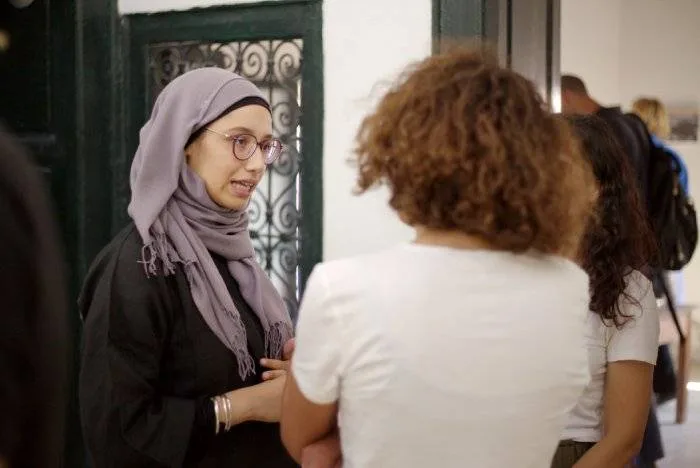 What is the situation like now?
Phosphate is still mined in Métlaoui and the Gafsa region and then transported to Gabes, where we are now. Here it's turned into chemical pesticides that are exported to the whole world. Walk around a bit and you'll see containers destined for France, China, and many other countries.
I get goose bumps just talking about it, because it's extremely polluting. In Metlaoui people have phosphate in their lungs, and there's literally a stream of liquid phosphate waste running near the town. For my exhibit, I dipped replicas of fossils into the stream: they came out black with phosphate.
We have a valley called the Selja Gorge where they think a lot of fossils are still buried. However, as we speak, mining companies are destroying what is left there. And these days they use explosives for mining, which is much more destructive.
What is your artistic process?
We have no proper archive or inventory of what existed in the ground here. There was a local museum in Metlaoui, but it burned down during the Arab Spring revolution of 2011. However, I learned what we do know from two paleontologists. Then I filled in the gaps with my art work. For example, I would have an image of a skull and then draw the lost body that could have belonged to it.
What is the goal of your exhibit?
My dream is to see that Tunisia establishes a national museum of natural history. With real fossils and specimens, not the ones I've imagined. The goal of my exhibit was never to point fingers; it's about what to do with the treasures still buried in the ground that we must save.