id="739″ id="post-2230″ class="wp-post-content-block " itemscope itemtype="http://schema.org/BlogPosting" itemprop="blogPost">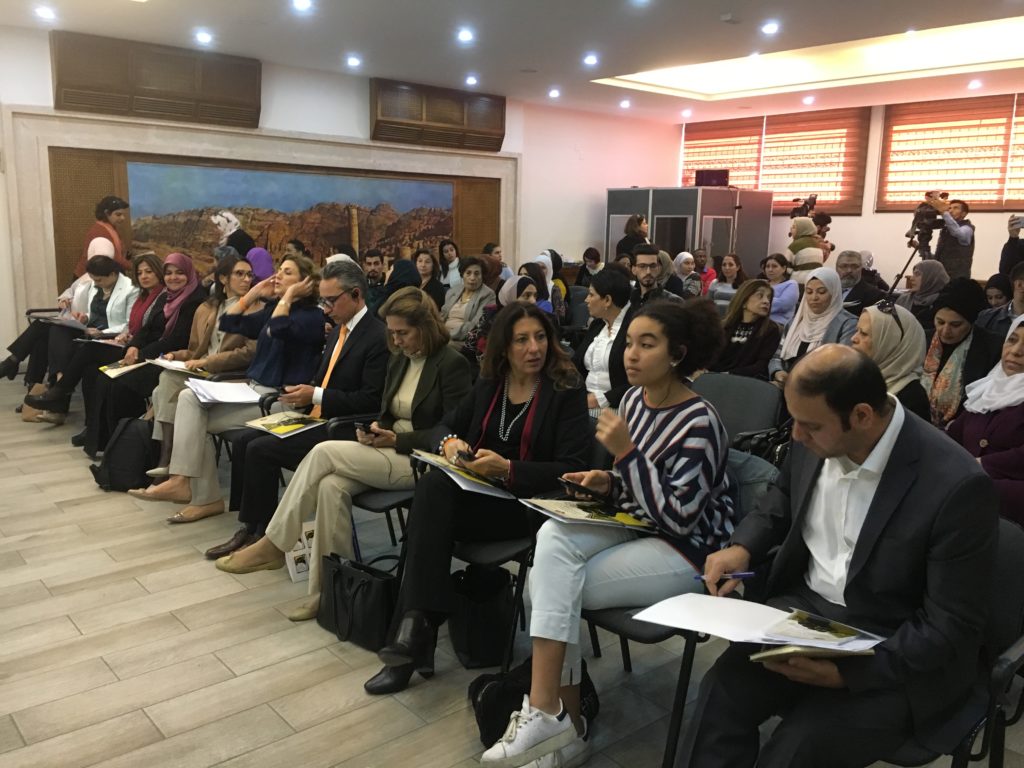 16 Days Campaign in Jordan… Breaking the Silence on Economic Violence
By: Shara Jazzar
For 2019, the annual 16 Days of Activism Against GBV campaign in Jordan was under the title of Breaking the Silence on Economic Violence. In that framework, a number of activities were organized by Hivos and its partners.
JNCW's study that led to theme of campaign
A study was launched by JNCW under the title of "Economic Violence Against Women in Jordan", covering a sample of 2,000 women from all governorates.
The results revealed that 52% of unemployed women are unable to work because of their parents' opposition, and 39% because of that of their husbands. This underlines to which extent both the family and the spouse have an impact on a woman's decision to work and her financial independence. Additionally, 40% of working women are forced to participate in the family's monthly expenses. Some of the most shocking results revealed that 17% of women do not have control over how to spend their income, 15% are compelled to take on loans for the sake of other family members, and 13% are deprived of their inheritance – usually for the benefit of male inheritors.
When it comes to house ownership, 82% of women do not own a share of the house they live in. This means that in case of divorce or death of their spouse, they are at risk of losing their home. Additionally, only 15% of the respondents have a personal bank account, which demonstrates their lack of financial autonomy.
On another note, 51% of female employees benefit from social security and 37% have a medical insurance. These numbers show that not only close family members use economic violence against women but also organizations and companies through depriving them of their basic workers' rights.
Which practices are considered economic violence?
A number of common procedures or socially acceptable practices fall in reality under economic violence. For this sake, the JNCW has published a number of messages via a number of media channels in order to raise awareness on the different types of economic violence practiced throughout Jordan. These include: The deprivation of women of their legitimate right to inheritance and forcing them to disclaim it; forcing women to take loans on behalf of others; controlling the resources, properties and income of women; depriving women working in agriculture of their workers' rights; forcing women not to work; gender-based discrimination in the workplace; working in a family business without receiving an income.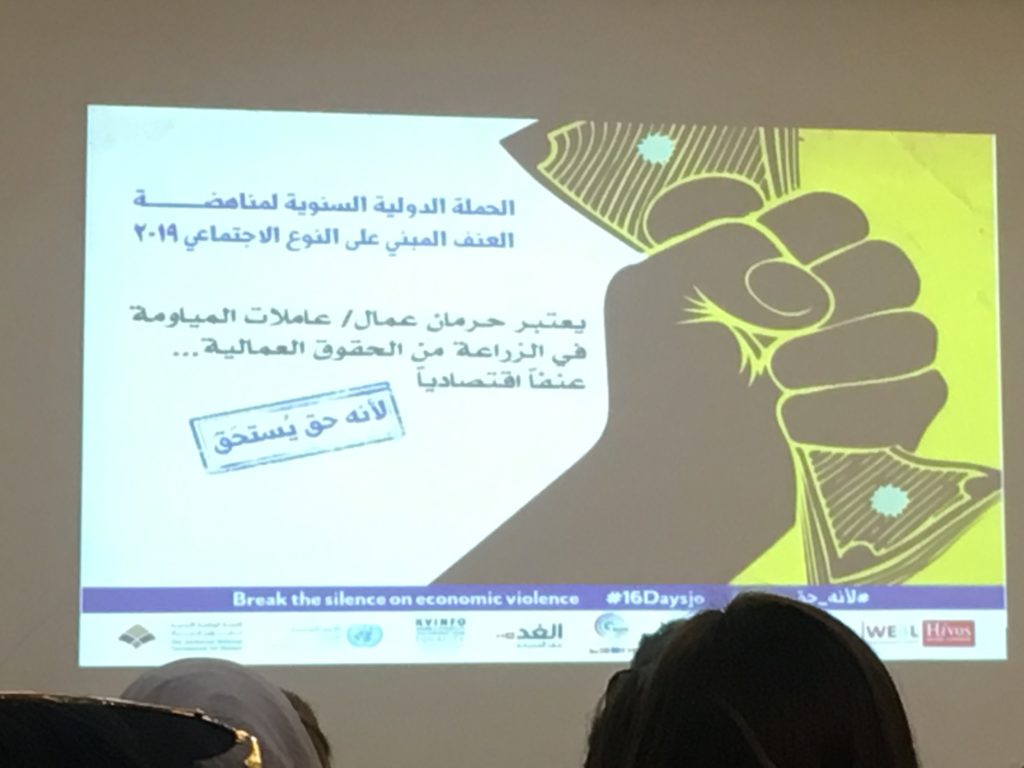 Let's Walk With Her
In parallel, Hivos organized a walk in which around 400 persons from different areas of Jordan participated with the aim of shedding the light on the importance of women's economic empowerment and showing their support for the cause. The walk ended with a bazaar held for the occasion, in which 55 women from all over the country sold their products – including artisanal handicrafts, beauty products and accessories, embroideries, as well as a variety of food goods.
The bazaar aimed at shedding the light on women's work as a means to enter the job market and contribute to economic growth, in addition to their ability to confront challenges that hinder their entry to the labor market. Furthermore, it provided women with the opportunity to network as well as promote their products, while enabling people to actively support them through directly buying from them.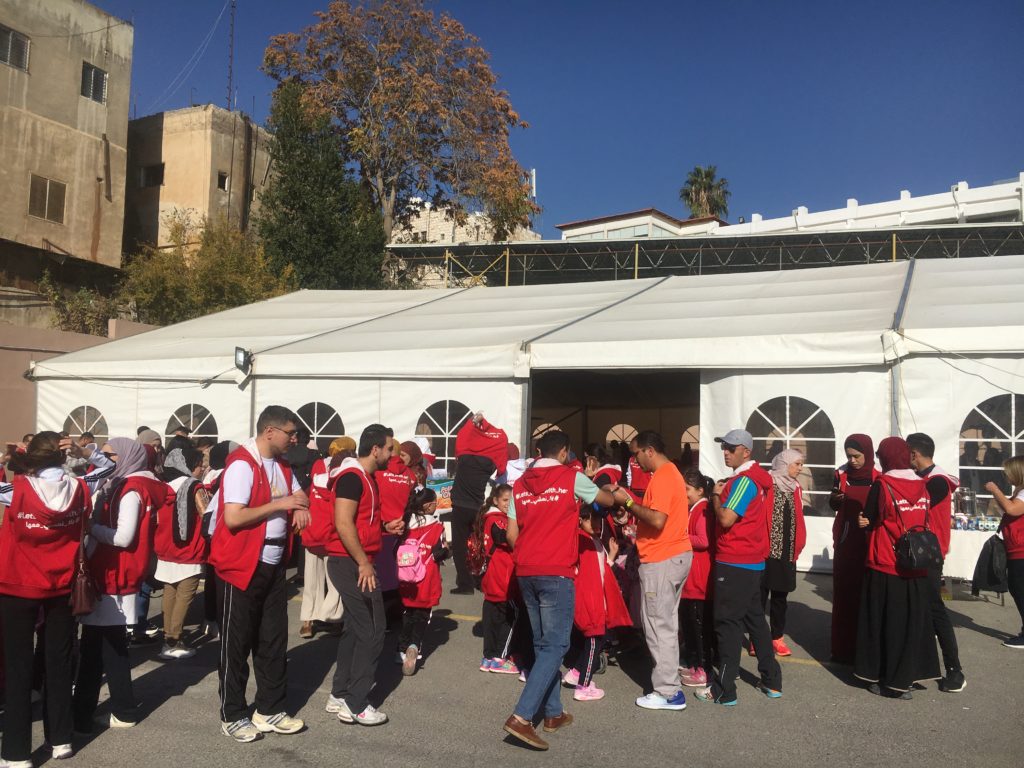 Media campaign through Hivos partners on Al Balad Radio
Hivos organized the hosting of its partners on Al Balad Radio to promote women's rights through introducing their interventions to increase women's public participation in Jordan.
The common factor that results in gender-based violence underlined by most speakers was poverty. In a study published in 2010 on honor killing, "most of these crimes were committed by poor men – 5.6% of which had a monthly income lower than 450 JOD", said Aida Essaid, Director of the Information and Research Center, King Hussein Foundation (IRCKHF). In parallel, Jude Sajdi, Director of the Research Department at IRCKHF, stressed that "it is crucial for a woman to be able to attain and control resources in order to speak about her being economic empowered."
Many other factors can play a negative role in women's economic participation and make them victims of economic violence, as expressed by participants from ANHRE. These include the lack of basic infrastructure such as street lights or proper transportation. The rationale for that is quite simple: if the streets are not lit or if there is no safe commuting, women will either chose to remain home or be forced to by male figures in their households – husbands, fathers or brothers. Consequently, they will be bound to the traditional female role, that of caretakers and housewives.
Ending the circle
By raising the awareness of society on women's economic rights and which practices are considered economic violence, Hivos is improving the preconditions for women's rights and gender equality by showing how to achieve a model of equality on the economic level, and how it will benefit society as a whole.