If you know some ancient history, Tunisia will evoke stories of Carthage and Queen Dido. If recent history is your thing, you'll remember that Tunisia is where the Arab Spring started. And if you're a Star Wars fan, you'll know that George Lucas filmed much of it there. But even a die-hard follower of social trends may not know that Tunisia is a frontrunner in North Africa for coworking spaces.
Reflecting the 2011 revolution's new sense of freedom and civic responsibility, Tunisia's first coworking space, Cogite, opened in Tunis in 2013. It soon became a partner of Hivos' Mideast Creatives program. In a few years, no fewer than five coworking spaces had popped up in Tunis alone.
Coworking spaces to encourage entrepreneurship
To help propel this movement of startup entrepreneurs, Hivos began co-implementing the Dutch government's LEAD program (Local Employment for Development in Africa) in 2016. The aim is to reduce youth unemployment, which can result in migration – and even radicalization – by stimulating entrepreneurship and free expression among young people and giving them relevant job skills. Coworking spaces have become the ideal place to reach and engage these young people.
Rural Tunisia, where unemployment soars and investors are scarce
A coworking space may seem natural in the capital city Tunis, but what about rural areas where few investors, government agencies or even NGOs venture? That's exactly where Hivos decided to support Tunisian entrepreneur Walid Hammami's dream: a coworking space in El Kef*, a small city nestled in the Atlas Mountains bordering Algeria.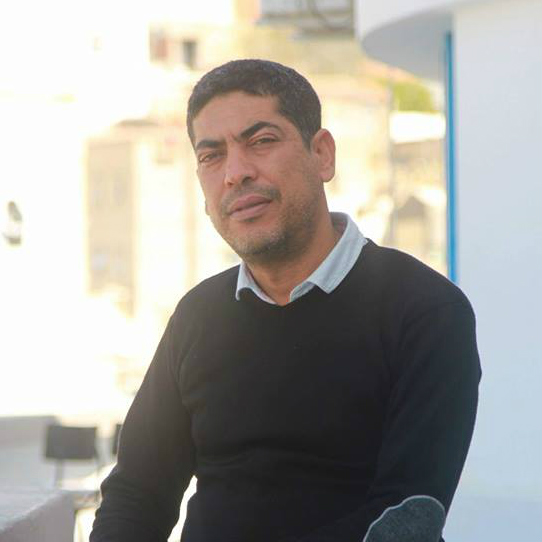 Like many small Tunisian cities, El Kef is plagued by skyrocketing youth unemployment. But here, there are also terrorist groups in the mountains trying to recruit its young men. To counter this, Walid turned the local Cirta cultural center into a cultural and coworking space in October 2016, with financial and technical support from Hivos and other donors.
El Kef's old city is on the cliff face of Jebel Dyr mountain, with the business district down below. Walid established Cirta right between the two to stimulate dialogue and cooperation among the city's poor and well-off inhabitants. By 2017, Cirta was successful both as a coworking space and a center offering business and social skills training. And it had employed 11 local young people.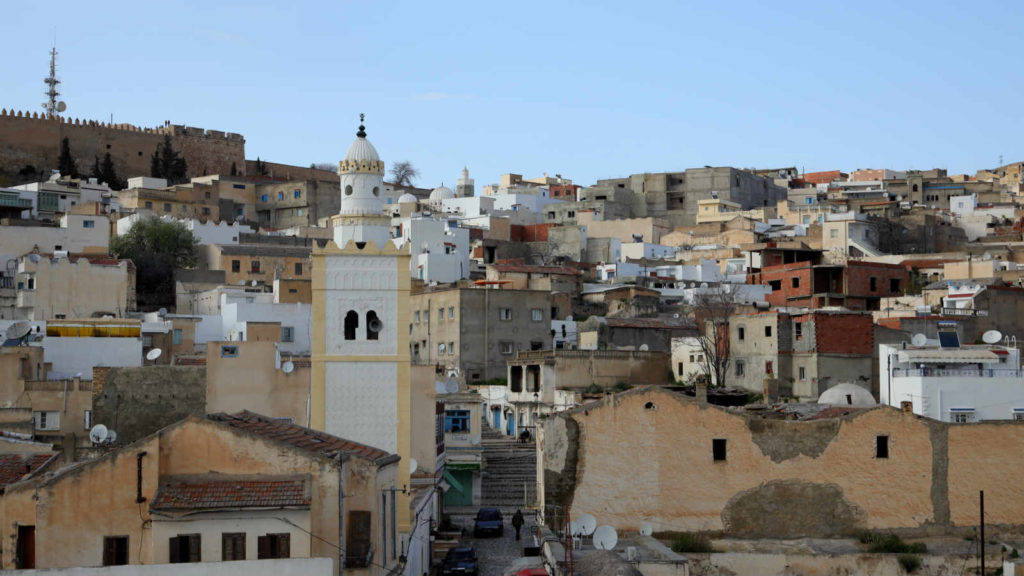 Cirta three years later
In April 2019, Hivos visited Cirta to find out how things were going now. We arrived on a Saturday afternoon. After peering up into the dimly-lit stairwell of an empty office building, we decided to follow the young people ahead of us. Finally, we found it at the very top! The café was packed with many of the same young people who normally study or work here quietly during the week. But today the loudspeakers were blasting and everyone was laughing, talking and sipping the excellent milkshakes made by café manager Yousra.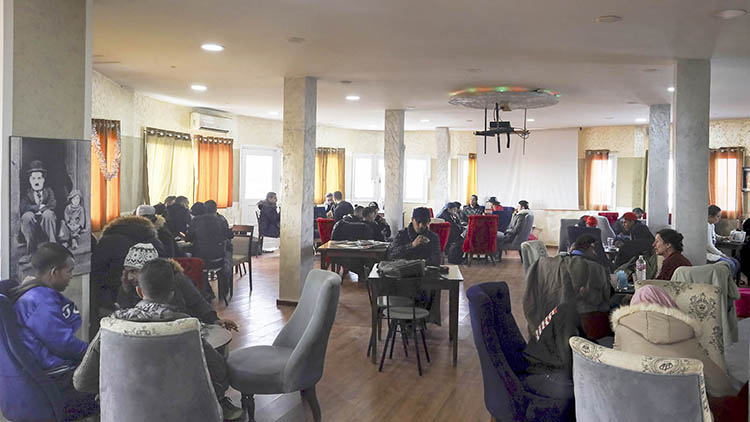 Yousra and Cirta's space manager Zeineb – enthusiastic young women in their twenties – showed us around. Zeineb explained that Cirta does more than rent work spaces and incubate projects. It offers bootcamps for starting entrepreneurs, pitch evenings with potential investors, training in confidence-building and social skills, meet-ups with officials and film screenings to promote local filmmakers. The space also hosts panel discussions, exhibits and competitions, and organizes open days on youth employment. All for free.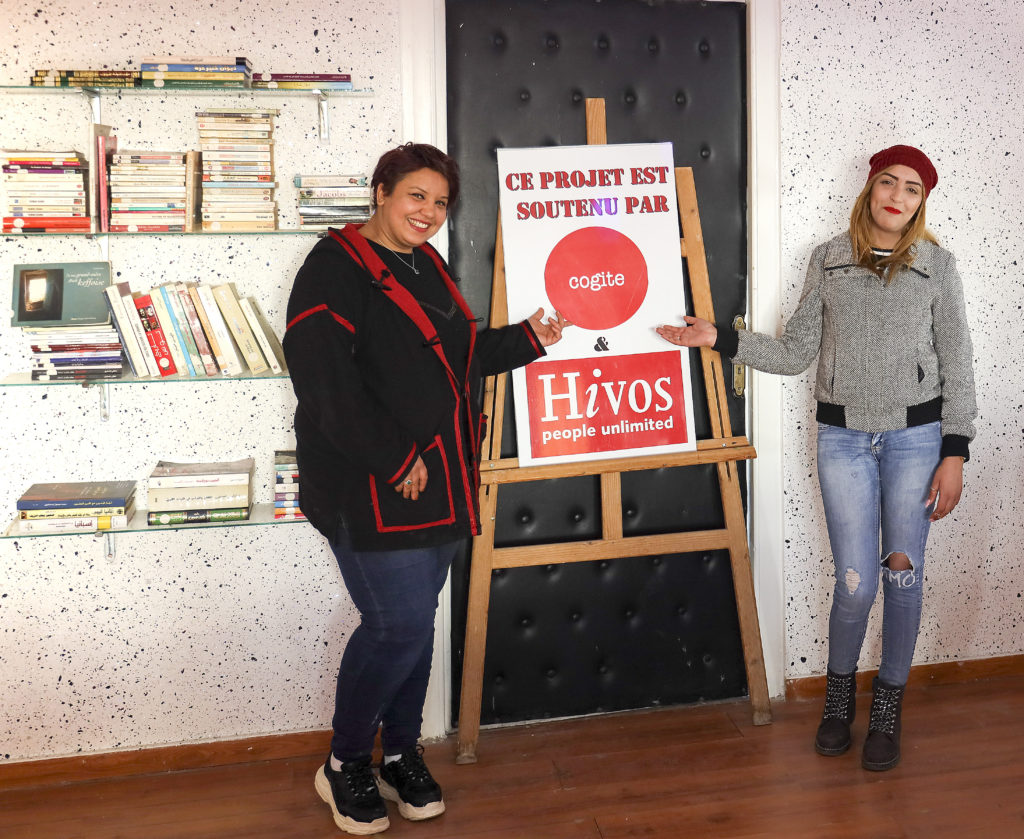 The space is surrounded by an outdoor balcony offering gorgeous views (as in header photo). Soundproof doors separate the lively café from the coworking space proper, where there's a large meeting room, a library, separate offices, the administration's office and…. a small movie theater!
From civil servant to entrepreneur
Then we sat down to chat with the founder himself. Walid decided to become an entrepreneur after ten years as a government official. A friend had tipped him off to the Cogite coworking space in Tunis, which inspired him to open Cirta. Through Cogite, Walid received training provided by Hivos in business models, finance, marketing, and leadership skills.
But what did it really take to open Cirta? "Tireless efforts, intense work on the identity of the space, many concessions, sleepless nights, exorbitant price offers and lots of community building, especially among artists," Walid smiles.
Shining example
According to Walid, whether you try to start a business in Tunisia with a bank loan, an investment fund or other lenders, it means loads of paperwork and long delays. In places like El Kef, support for new projects is minimal, so private or NGO initiatives are essential.
That's why the LEAD program is so important, Walid says. "We're currently training more than forty young people in fields like digital communication, finance, business management and project development. But our coworkers actually include an engineer, a tattoo artist, a web developer, a craftsperson and a travel agent," he laughs.
The space has not only created a community of innovative entrepreneurs and creators, and groomed startups for success. It is also serving disadvantaged young people with activities and projects to open up new alternatives in their lives. Walid stresses, "By promoting dialogue and the peaceful resolution of disputes, and defending minorities like the LGBTQ community and women, we want Cirta to make El Kef and the whole northwest region shine."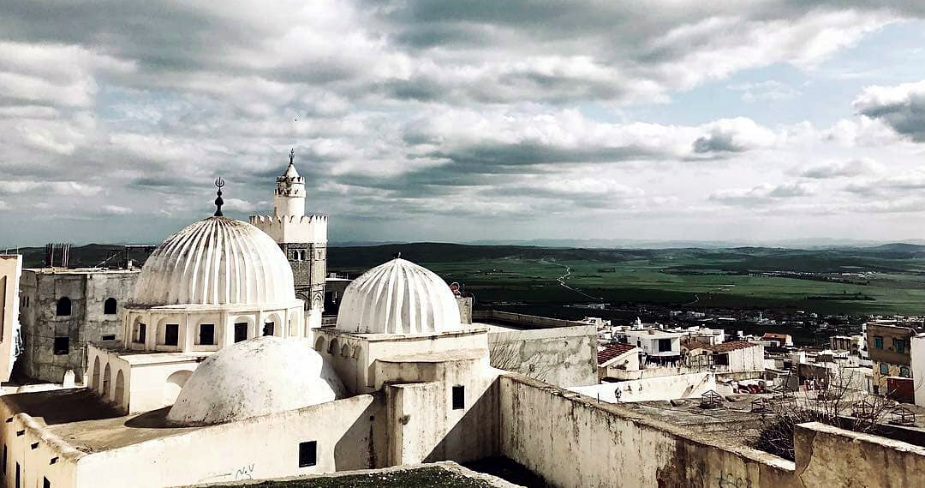 Investors, government officials and NGOs are showing up
Now the investors and officials are showing up. In March 2019, Cirta received the French Ambassador to Tunisia, Olivier Poivre d'Arvor. And Walid has a long list of others who have found their way to Cirta. From Tunisian and regional business men and government officials, to international fundraisers. And representatives of international organizations like Olfa Azzabi of European Union National Institutes for Culture (EUNIC), Redha Sbahiya of UNHCR, Fakhreddine M'hadhbi of the ILO and Kamel Jouini of Amnesty.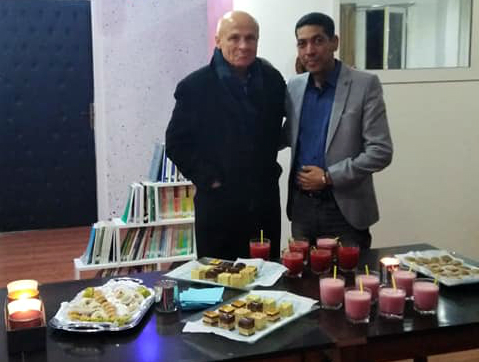 What about women?
Since the LEAD program has a special focus on women, we asked Walid how he targets them and gets them to stay.
"El Kef, like most of Tunisia's hinterland, has a masculine culture that excludes women. So at Cirta we try to attract women with our rules against rude behavior, special activities … and preferential rates for women coworkers," he explains.
Is there ever resistance from the parents of girls who want to come? "Yes, at first," Walid admits, "but when they see the nice atmosphere of the space, the library, the movie theater, the staff … they are soon at ease." Leaning over confidentially, he adds: "Cirta also has a secret (informal) cell that takes care of girls who have problems with their parents."
He notes that Cirta takes a different approach with its future women entrepreneurs. "They receive more encouragement and are urged to report any sexual harassment or personal attack while they carry out their projects."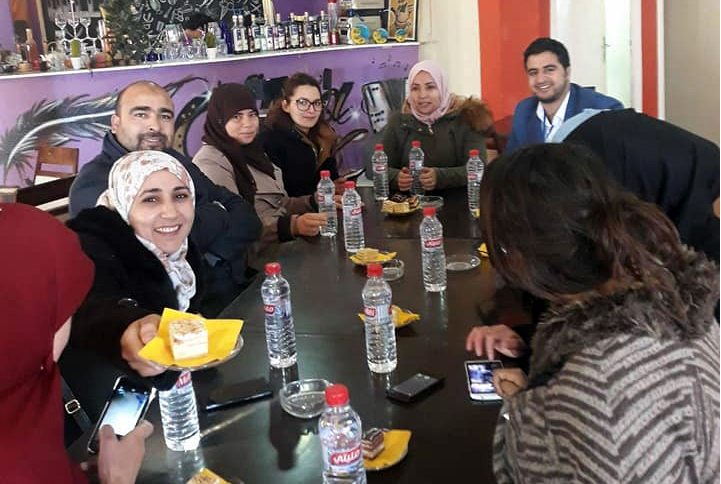 Success stories
Walid's face lights up when we ask him about Cirta's success stories. "Yes, we have many, but I'll tell you two. One is Rochdi, a young man from a very poor area of El Kef. His brother is a Salafist who chose to join the terrorist groups in the mountains. At Cirta, we managed to help Rochdi turn his hobby – a passion he had hidden from everyone – into a lucrative enterprise. Rochdi has become the very first tattoo artist in northwestern Tunisia! We did this by working on his personality and social skills and helping him to network, in addition to incubation."
Zeineb Mejri, Cirta's space manager, is the other example Walid wants to share. "The fever to own your own business has infected even my staff. Zeineb joined us with just a catering diploma and worked her way up to become our space manager. Now she's preparing to open the first French pastry shop in El Kef." His conclusion? "To encourage young people to start a business, you just have to give them a good example. That's what Cirta does."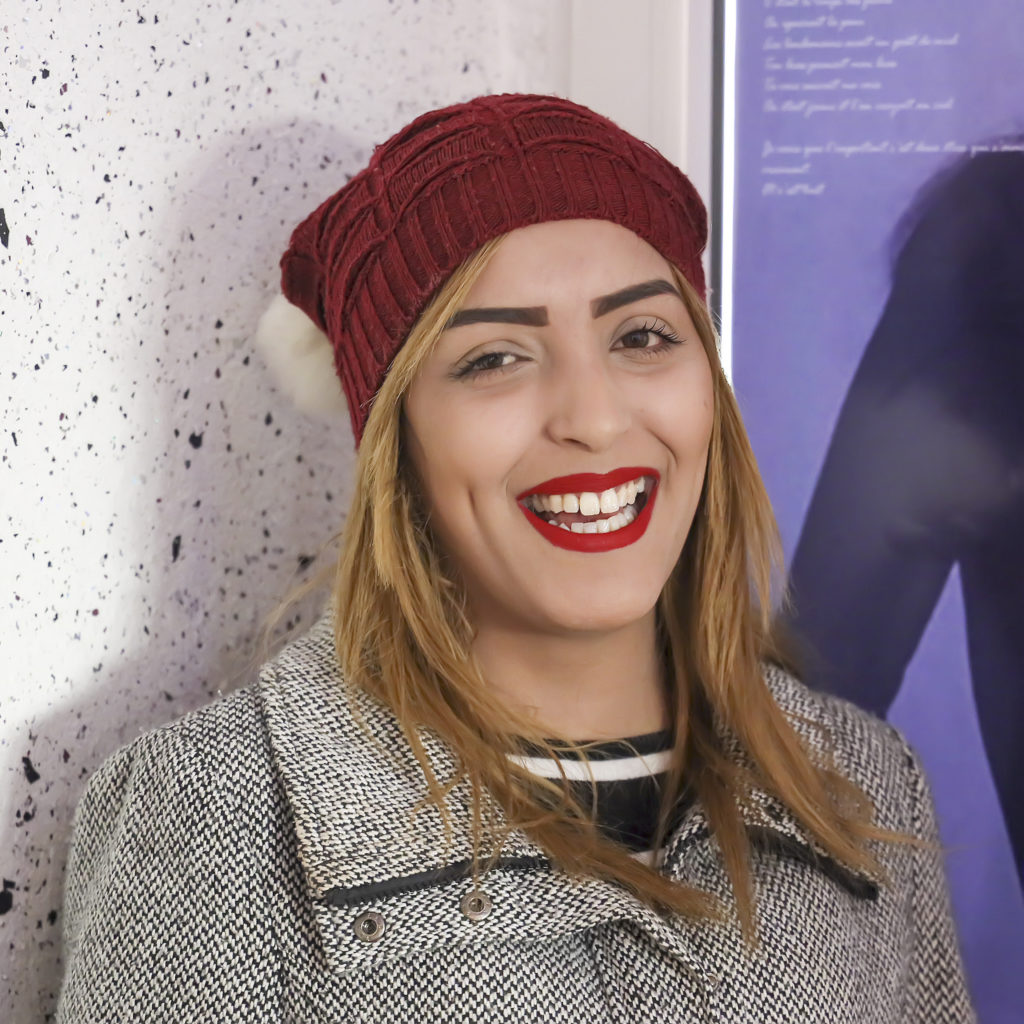 Since 2016
50 visitors a day who come to work online in the cafe (young people, students)
300 young people trained
80 young entrepreneurs' businesses supported
21 start-ups launched
12 Cirta employees
A personal reflection
How has running Cirta affected Walid personally, we wonder? "It's meant a dream come true, greater self-esteem and plenty of recognition from others – more than enough to fulfill anyone. No, I don't live the quiet life of a civil servant any more. Every day I have new challenges, more responsibility for my space and my staff. It's another life altogether."
Future plans
Walid has more dreams he wants to make come true. For example, launching the project Cirta House (Maison Cirta). "This will expand our physical space to accommodate more start-ups and turn Cirta into a really attractive point of reference for entrepreneurs in El Kef and all northwest Tunisia." He's applied to Drosos Foundation for funding and hopes to hear from them soon.
Hivos
Naturally, we were curious to find out what Walid thinks of the support he has received from Hivos. "The support I received allowed me to launch Cirta properly. Hivos is a very democratic organization that doesn't try to choose for you or impose itself," he affirms.
Advice from a pro
Walid's advice for someone who wants to open a coworking space is, "You need to have a clear idea of the future of your community, work hard and be creative. Nothing is more important than ensuring the continuity and longevity of the project."
As we left, many of the young people in the café turned and waved. They had seen us taking photos, and like so many other Tunisians we met, wanted to wish us well.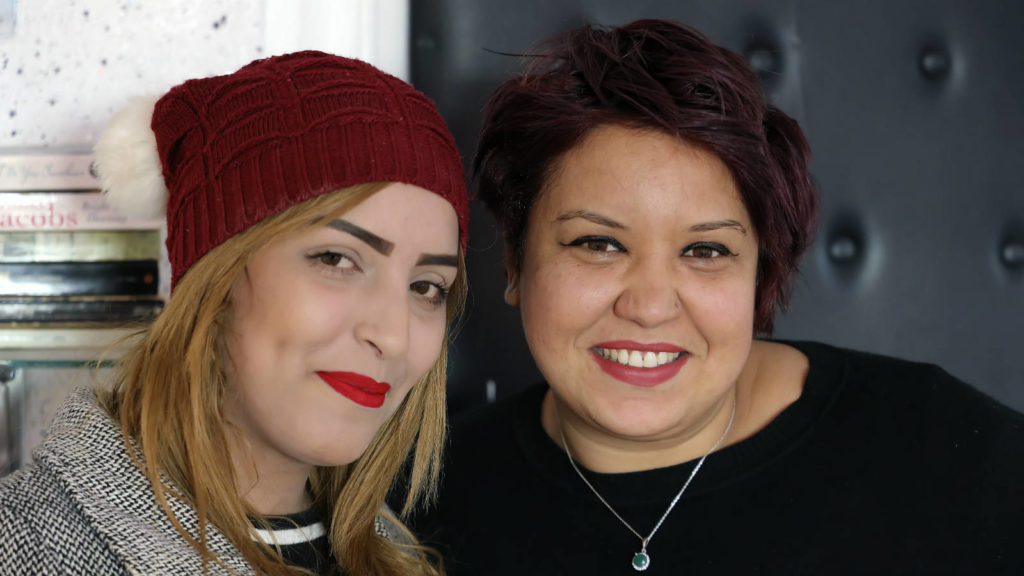 * Also known as Le Kef