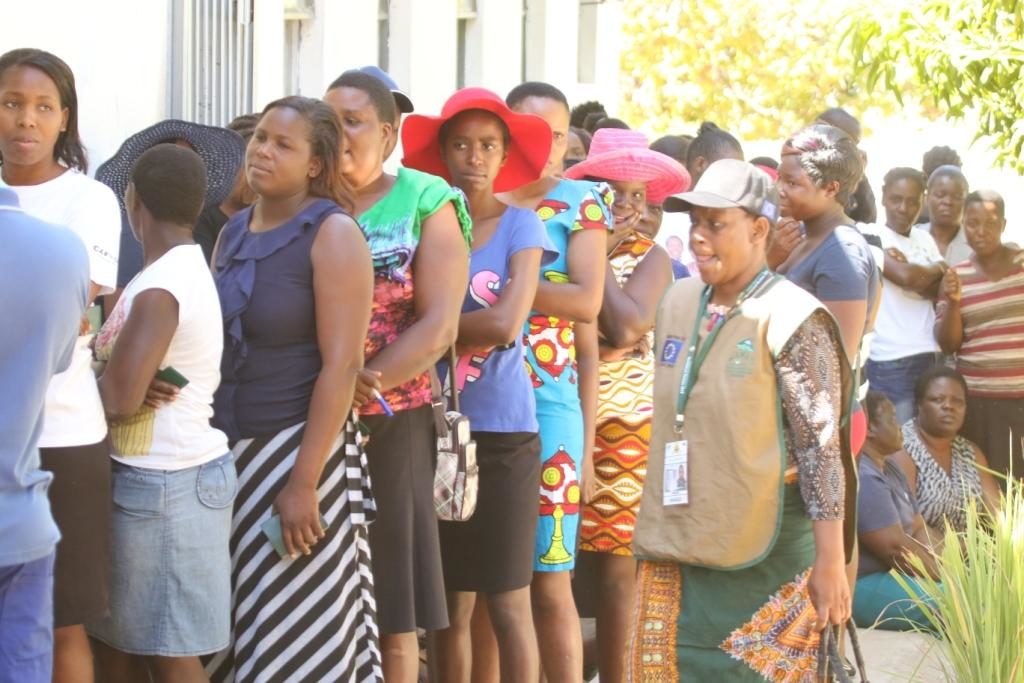 To the woman who dared to try… July 30th
Women of Zimbabwe, we congratulate all who participated in Zimbabwe's harmonised election. We congratulate the woman who dared to go against the odds, the name calling, the patriarchal systems, the social stigma, the online trolls and against a system rigged to ensure the failure of women. We congratulate the candidate, the voter, the polling agent, the observer and any woman who in one way or the other played their part in Zimbabwe July 30th election. Our efforts towards gender equality in Zimbabwe and the region continue as women claim their seat at the table and make their voices heard.
Against All Odds
The Zimbabwe election came after men and women of all ages came together in the streets of the Capital city, Harare, calling for the former president Robert Mugabe to step down. However when the election campaign period came around that same solidarity was no longer there, the elections saw political parties sidelining gender equality for male-only strategic partnerships and the few women who were running for office found themselves fighting for the same seats. Social and traditional media became a battle ground with trolls demeaning women and using degrading slurs to discourage them from participating or having an honest opinion.
Why we Celebrate
If ever there has been a time to celebrate women's strength and endurance it is now. We do not only celebrate the winners, we celebrate the history on which the women's movement strength is built , the victories against the present system-embedded oppression that continues to muffle women's voices years after independence and then not forgetting to celebrate the future that women across the region continue to dream of and work hard for.
The Women elected into the 9th Parliament of Zimbabwe
| | | | | |
| --- | --- | --- | --- | --- |
| PROVINCE | CONSTITUENCY | WINNING CANDIDATE | SEX | PARTY |
| Bulawayo Metropolitan | Bulawayo Central | Watson Nicola Jane | F | MDC- Alliance |
| Bulawayo Metropolitan | Luveve | Ndlovu Stella | F | MDC- Alliance |
| Bulawayo Metropolitan | Pumula | Mahlangu Sichelesile | F | MDC- Alliance |
| Harare Metropolitan | Glenview South | Tsvangirai Java Vimbayi | F | MDC- Alliance |
| Harare Metropolitan | Harare West | Mamombe Joanah | F | MDC- Alliance |
| Harare Metropolitan | Kuwadzana | Mushayi Miriam | F | MDC- Alliance |
| Harare Metropolitan | Mufakose | Matsunga Susan | F | MDC- Alliance |
| Harare Metropolitan | Sunningdale | Kankuni Winnie | F | MDC- Alliance |
| Manicaland | Chimanimani West | Matsikenyere Nokuthula | F | ZANU PF |
| Manicaland | Mutasa North | Madiwa Chido | F | ZANU PF |
| Manicaland | Nyanga North | Sanyatwe Chido | F | ZANU PF |
| Mashonaland East | Chikomba East | Kanhutu Irene Nzenza | F | ZANU PF |
| Mashonaland East | Marondera West | Mukunyaidze Spiwe Elizabeth I | F | ZANU PF |
| Mashonaland East | Mudzi West | Mudyiwa Magna | F | ZANU PF |
| Mashonaland East | Mutoko North | Chinomona Mabel Memory | F | ZANU PF |
| Mashonaland West | Hurungwe West | Mliswa Mary T | F | ZANU PF |
| Mashonaland West | Mhangura | Masango Chinhamo Precious | F | ZANU PF |
| Mashonaland West | Zvimba North | Chombo Marrian | F | ZANU PF |
| Masvingo | Gutu East | Chikwama Berta | F | ZANU PF |
| Masvingo | Mwenezi West | Moyo Priscilla | F | ZANU PF |
| Matabeleland North | Lupane East | Gumbo Sithembile | F | ZANU PF |
| Matabeleland North | Nkayi North | Nyoni Sithembiso G. G | F | ZANU PF |
| Matabeleland North | Nkayi South | Mathe Stars | F | ZANU PF |
| Matabeleland South | Beitbridge West | Maboyi Ruth Mavhungu | F | ZANU PF |
| Midlands | Chirumanzu | Rwodzi Barbara | F | ZANU PF |
Women in parliament under Proportional Representation
PROVINCE
SER
NAME
SEX
PARTY
Bulawayo
1
Khumalo Thabitha
F
MDC Alliance
2
Sibanda Dorcas Staff
F
MDC Alliance
3
Toffa Jasmine
F
MDC Alliance
4
Mushonga Priscilla Misihairambwi
F
MDC-T
5
Mkwanda Judith
F
ZANU PF
6
Ncube Ophar
F
ZANU PF
Harare
1
Mpariwa Paurina
F
MDC – Alliance
2
Myambo Annah
F
MDC – Alliance
3
Zengeya Virginia
F
MDC – Alliance
4
Jaja Joyce
F
MDC – Alliance
5
Madziwa Susan
F
ZANU – PF
6
Chikukwa Miriam Rutendo
F
ZANU – PF
Manicaland
1
Karenyi Lynette
F
MDC Alliance
2
Makonya Joyce
F
MDC Alliance
3
Chihururu Constance
F
MDC Alliance
4
Muchinguri Oppah Chamu Zvipang
F
ZANU PF
5
Chikuni Esther
F
ZANU PF
6
Chitura Lucia
F
ZANU PF
Mashonaland Central
1
Majaya Bacillia
F
MDC Alliance
2
Shongedza Elizabeth
F
ZANU PF
3
Chibagu Getrude
F
ZANU PF
4
Mashonganyika Dorothy
F
ZANU PF
5
Nhambo Ferescah
F
ZANU PF
6
Gezi Tsitsi
F
ZANU PF
Mashonaland East
1
Mangora Brightness
F
MDC Alliance
2
Mchenje Sipiwe Muchaneta
F
MDC Alliance
3
Zimura Lilian
F
ZANU PF
4
Makoni Reselyn Roseweater
F
ZANU PF
5
Tsuura Nyarai
F
ZANU PF
6
Maveta Tatenda Annastacia
F
ZANU PF
Mashonaland West
1
Chinanzvavana Consilia
F
MDC Alliance
2
Mafuta Senzeni V.
F
MDC Alliance
3
Mhlanga Jennifer N.
F
ZANU PF
4
Kwaramba Goodluck
F
ZANU PF
5
Shava Josephine
F
ZANU PF
6
Nyere Christina
F
ZANU PF
Masvingo
1
Mugidho Machirairwa
F
MDC-ALLIANCE
2
Mago Nyaradza
F
MDC-ALLIANCE
3
Rungani Annah
F
ZANU PF
4
Chipato Angelline
F
ZANU PF
5
Samson Aliginia
F
ZANU PF
6
Ncube Emma
F
ZANU PF
Matabeleland North
1
Bhuda Sibusisiwe
F
MDC Alliance
2
Labode Mafoko Ruth
F
MDC Alliance
3
Ncube Francisca
F
MDC Alliance
4
Nkomo Male
F
ZANU PF
5
Masuku Elizabeth
F
ZANU PF
6
Mnkandla Moli
F
ZANU PF
Matabeleland South
1
Ndlovu Nomathemba
F
MDC- Alliance
2
Maphosa Lindiwe
F
MDC-Alliance
3
Mpofu Rossy
F
ZANU PF
4
Ndlovu Alice
F
ZANU PF
5
Ndlovu Evelyn
F
ZANU PF
6
Singo Lisa
F
ZANU PF
Midlands
1
Gozho Cathrine
F
MDC Alliance
2
Mbondiya Memory
F
MDC Alliance
3
Mutambisi Colleta
F
ZANU PF
4
Shirichena Ellina
F
ZANU PF
5
Zhou Perseverence
F
ZANU PF
6
Nhari Vairet
F
ZANU PF