Can you shift the way people think about gender and sexuality? More often than not, effective public campaigns play a crucial role in changing the way people think. Our new publication Changing Hearts and Minds shares how activists from countries as diverse as Poland, Costa Rica, Ukraine, Nepal, Zimbabwe and Southern Africa are doing incredible work shifting public opinion on SRH-R and SO/GIE/SC.
We hope that Changing Hearts and Minds will particularly resonate with activists working in hostile social, political and legal contexts. Six organizations working in the field of SO/GIE/SC (Sexual Orientation, Gender Identity and Expression, and Sex Characteristics) explain how and why they developed their campaigns, what worked and what didn't, and the lessons they learned along the way. The publication was supported through the Right Here, Right Now program.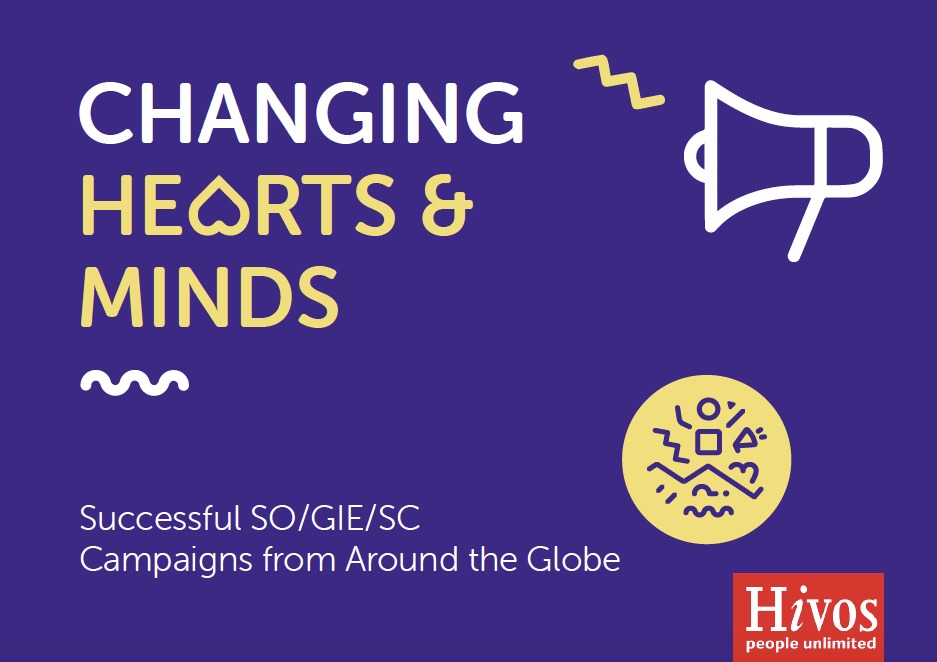 Moving the middle
Opponents of SO/GIE/SC advocates are investing in more insidious ways to make their "case" in the court of popular opinion. Armed with misleading stereotypes, half-truths, and outright lies, they have been increasingly successful at creating moral outrage. Using deeply conservative framing, they have presented a particular view of religion (across many denominations) that demonizes and excludes people. They have fermented widespread fear over the loss of privilege and power by calling for a "return" to traditional gender hierarchies and patriarchal families.
Countering the influence of conservative forces on public opinion requires us to focus on the so-called "movable middle." This is the silent majority of people who don't have a (fixed) opinion about controversial societal issues but tend to follow socially accepted norms. Moving that middle calls for smarter and more effective campaigns aimed at ordinary people – not just policy makers, politicians and judges.
But what are effective campaigns and how do you develop them? In Changing Hearts and Minds you can not only read the case studies, but also watch videos featuring the six organizations. Below we'll preview two examples.
Finding effective messages
How do you work effectively in contexts where prejudice is widespread and deeply rooted in strong religious beliefs?
One of the stories is set in Poland, where 90 percent of the population is Catholic. The video explores how activists from Campaign Against Homophobia came to understand they had to grapple with this reality if they were to shift public opinion. It shows how important it is to fully understand the key audiences you are hoping to engage. By finding allies within these communities, and building sincere trust and working relationships based on shared values, it is possible to make inroads into even the most challenging spaces.
Popularizing legal victories

How do you popularize political and legal victories that advance the rights and well-being of LGBTIQ+ people on paper, but are out of step with widespread social attitudes?
Another story describes how a leading SO/GIE/SC organization in Nepal actively engaged with deeply traditional cultural norms and practices in order to strengthen and reinforce legal and policy changes around third gender recognition.
Third gender is often used as an umbrella term in Nepal to refer to sexual and gender minorities broadly in the many languages spoken in the country. More specifically, it is used to describe biological males who have "feminine" gender identity or expression and biological females who have "masculine" gender identity or expression. One of the major victories won by activists was the ruling that the term "other" (anya) be used to represent this category on official documents.
This case study shows the value of understanding and using unique cultural traditions, particularly in less urbanized areas.
Right Here Right Now
Changing Hearts and Minds was supported through the Right Here, Right Now (RHRN) initiative. RHRN was a five-year program designed to strengthen advocacy for a progressive and inclusive Sexual and Reproductive Health and Rights (SRHR) agenda. It was funded under the Dialogue and Dissent policy framework of the Ministry of Foreign Affairs of the Netherlands.
RHRN was implemented by a consortium of seven organizations, led by Rutgers, and including Hivos, Arrow, Choice for Youth and Sexuality, Dance4Life, IPPF and Latin American and Caribbean Women's Health Network (LACWHN). We all share the belief that young people, everywhere, have the inalienable right to make their own choices, and lead happy and healthy lives. Hivos played a leading role in supporting advocacy work around SO/GIE/SC.
Hivos' SO/GIE/SC training
Have you ever been told to "act like a man" or "act like a lady"? Are you aware of your biases? Do you know how to be truly inclusive? Hivos presents an online training that will help you and your organization address these questions.
Our SO/GIE/SC training materials are available to all interested. The training uses concrete tools that help you thoroughly consider issues important to sexual, gender and sex minorities and ensure their voices are respected and included. It can therefore also be used to develop countermeasures against discrimination and violence towards sexual minorities.