Overview 2022
At Hivos we approach the climate crisis as a political, social and ethical issue, rather than a purely environmental one. Its cause is clear: an unsustainable economic model that unequally distributes wealth and power in the world. At the same time, the climate crisis increases this inequality by affecting those who are least responsible the most.
People with low incomes and long histories of oppression are the ones facing the worst impacts, despite having contributed the least to the problem. But real, systemic change can only take place if the voices and solutions of people hit hardest by the climate crisis, including women, young people, Indigenous Peoples and other marginalized groups, are at the centre of inclusive climate action. Only then we will be able to achieve Climate Justice for all.
Pushing for Climate Justice in 2022
Below we highlight several of our efforts to put justice and equity at the heart of climate action in 2022

Just distribution and local solutions
Our focus lies on a just distribution of resources and bolstering local solutions. We do so by promoting equitable access to climate finance, technology and markets. Climate finance and decarbonization plans and policies must swiftly, adequately and fairly support the people most affected and enable effective climate action at local levels.

Building political power and influence
We build political power and influence by bringing diverse rightsholders and movements together. This way, they can better pressure governments and the private sector, engage in decision-making processes, and hold duty bearers to account. We have several aims. One is to stimulate movement building and advocacy. Another is to support those most affected by climate change in their efforts to access and utilize the legal system. And ultimately, we want to achieve changes in policies, plans and practices, and establish transformational legal precedents.
An inspiring example of exercising political power and influence comes from our All Eyes on the Amazon program. Since 2017, Indigenous leader Alexandra Narvaez has been fighting against the destruction of the Ecuadorian Amazon. With support from our program, she and her community achieved an unprecedented legal victory. A provincial court of Ecuador declared 52 mining licenses granted by the government null and void. This ruling protects 79,000 hectares of pristine rainforest. A great win for the indigenous people of the Amazon. Hopefully many more wins will follow.

The program ended in December 2022 after five years of supporting Indigenous Amazonians in Peru, Ecuador and Brazil in their fight against deforestation, pollution, and rights violations. Implemented with Greenpeace and more than 30 local and international organizations, it was financed by the Dutch Postcode Lottery, for which we are very grateful. It combined state-of-the-art technology, like satellites and drones, with local knowledge and provided support to Indigenous peoples in the areas of technology, access to information, Indigenous and human rights, conservation, advocacy and law enforcement.

The legacy of All Eyes on the Amazon lives on as part of Voices for Just Climate Action in Brazil.

Hosted by Hivos since 2016, ENERGIA's advocacy and lobby activities foster gender equality in the energy sector and ensure that women's voices are heard in the energy policy discussions and intergovernmental negotiations. The network targets governments, multilateral organizations, donors, financial institutions, utilities, and energy companies to promote equal and inclusive opportunities and create an environment where women can thrive.

During the Covid-19 crisis, entrepreneurs all over the world were under pressure. This was also the case of the women who, with our support, had recently started their own sustainable business. In countries without a social safety net or government support, their situation was particularly vulnerable. But thanks to contributions from the Dutch public, they managed to keep their heads above water. We were able to help 1300 women entrepreneurs in 5 countries get through the corona crisis. This way they can continue to lead the way in the fight against both inequality and climate change.

At the beginning of 2023, Hivos announced the launch of Urban Futures, a new global program working at the intersection of urban food systems, youth wellbeing, and climate action. It will operate in intermediary cities in Colombia, Ecuador, Indonesia, Zambia and Zimbabwe, supporting local partners and especially young people to drive more inclusive, climate-resilient cities and urban food systems. The program is supported by Fondation Botnar and is the result of a 2022 co-creation process with Hivos, the RUAF Global Partnership on Urban Agriculture and Food Systems, Fondation Botnar, and local partners, networks and experts.

Reshaping climate narratives
Hivos is reshaping climate narratives at local, national and international levels. Created by the voices and movements of key rightsholders, these narratives connect to peoples' emotions and inspire behavioral change. By working on strategic communications targeting popular culture, and amplifying diverse rightsholders' voices, we aim to "move the middle." This will mobilize people across the world, and strengthen the global climate movement.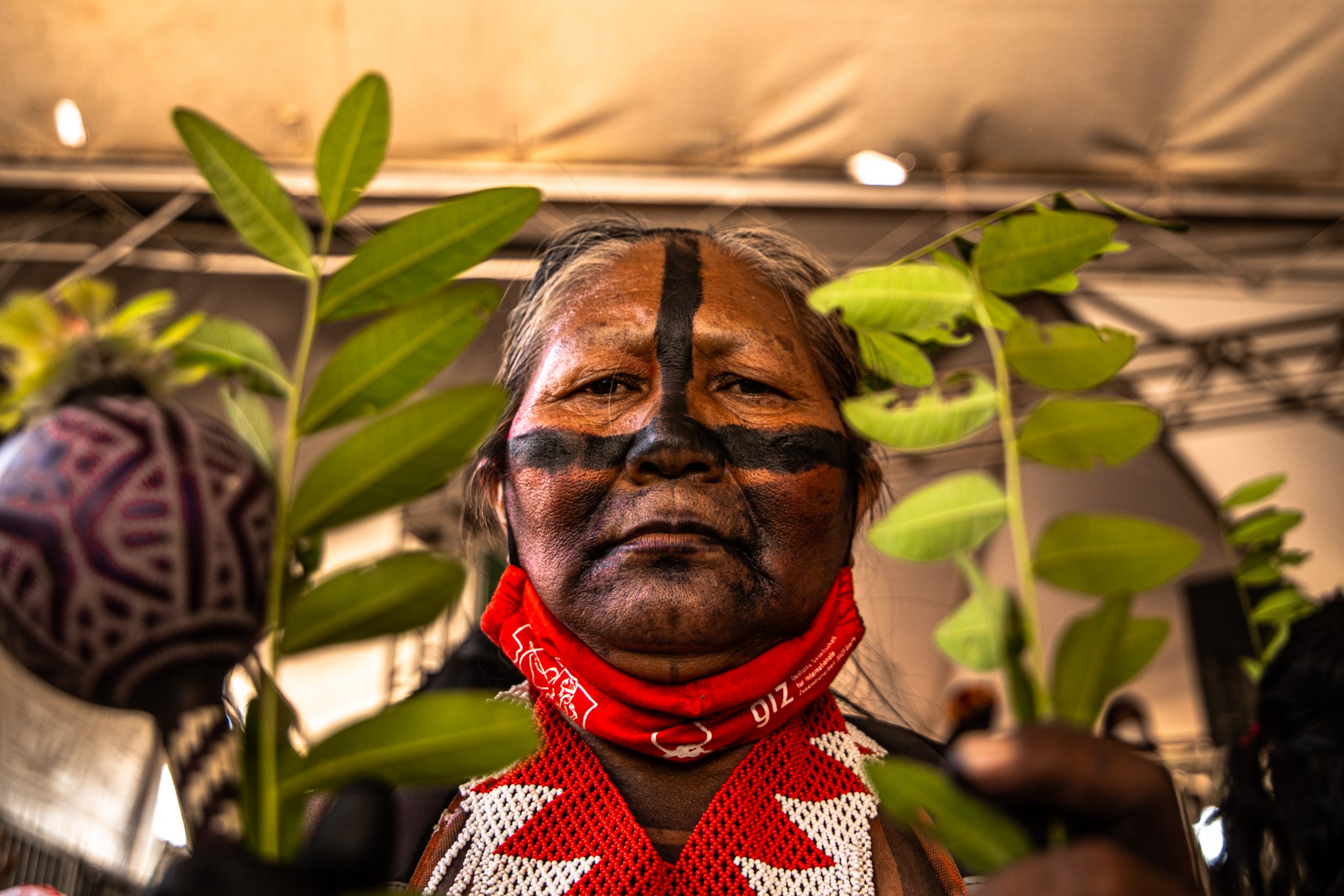 Every day, Hivos stands in solidarity with courageous women and girls in their quest for gender equality and a world where diversity is celebrated. Gender equality is an essential prerequisite for sustainable development and inclusive climate action. Advancing gender equality in the context of climate change and its impacts remains one of the most significant global challenges of our time.
''Women must be part of a just, climate-resilient transition," writes Sheila Oparaocha of ENERGIA. The network, hosted by Hivos since 2016, contributes to universal, equal and equitable access to and control over sustainable energy for all, putting women at the center of our efforts. Our current political and economic system fails to ensure an equal and sustainable future that benefits all. So we need a just energy transition that not only puts people and the environment first, but also promotes inclusive and gender-transformative action. This is absolutely critical to address current and future challenges on a planet with limited resources and gaping inequities.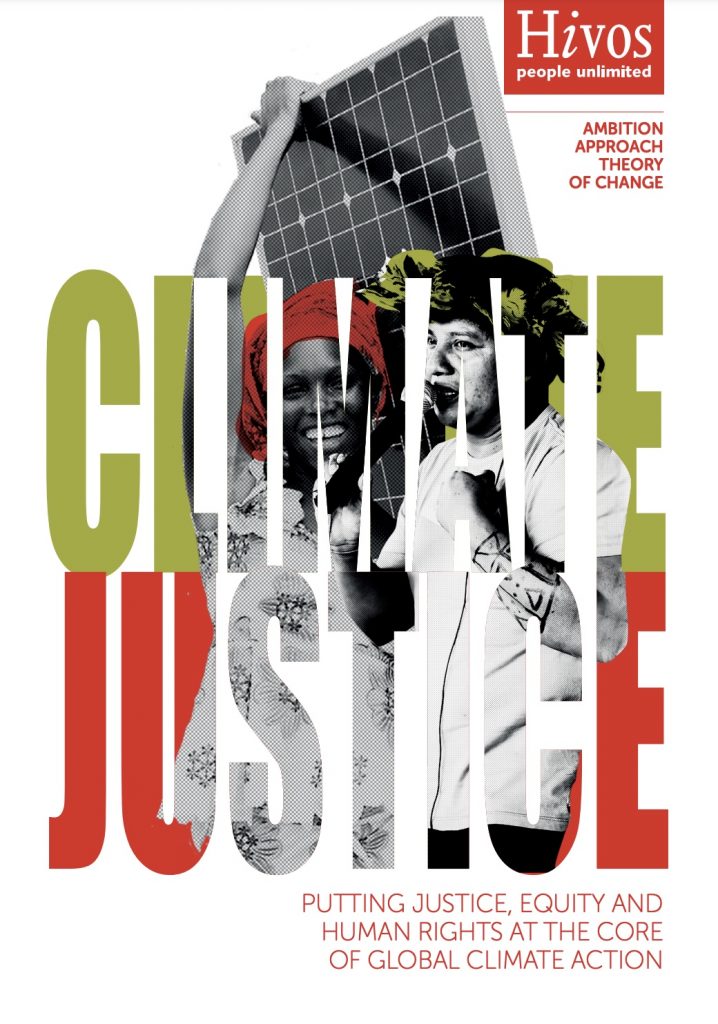 Find out more about how we aim to achieve climate-just societies
The white paper "Putting justice, equity and human rights at the core of global climate action" outlines the ambition, approach and Theory of Change. It underpins Hivos' vision of a more just, fair, dignified, and prosperous society where key rightsholder groups and social movements from the Global South put their priorities and agency at the center of global climate action.
If you are interested in partnering with us, reach out Steven Hawkes (Climate Justice Program Development Manager): shawkes@hivos.org.